APA Sample References
APA Sample References
References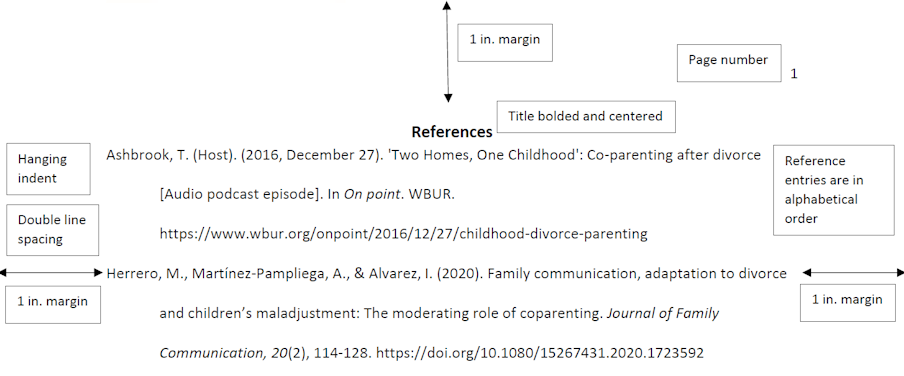 McHale, J. P., & Lindahl, K. M. (Eds.). (2011). Coparenting: A conceptual and clinical examination of
family systems. American Psychological Association. https://doi.org/10.1037/12328-000
McHale, J. P., Negrini, L., & Sirotkin, Y. (2019). Coparenting. In B. H. Fiese, M. Celano, K. Deater-Deckard,
E. N. Jouriles, & M. A. Whisman (Eds.), APA handbook of contemporary family psychology: Vol. 1
Foundations, methods, and contemporary issues across the lifespan (pp. 483–502). American
Psychological Association. https://doi.org/10.1037/0000099-027
Nugent, C. N., & Daugherty, J. (2018, May 31). A demographic, attitudinal, and behavioral profile of
cohabiting adults in the United States, 2011–2015 (National Health Statistic Reports No. 111).
Centers for Disease Control and Prevention. https://www.cdc.gov/nchs/data/nhsr/nhsr111.pdf
Ohio State University Extension. (2012, January 30). Successful co-parenting a child's view [Video].
YouTube. https://www.youtube.com/watch?v=Edb9plpHO7k
*APA References Page information is in Chapter 9 of the Publication Manual of the American Psychological Association (7th ed.).
Page last updated July 25, 2023.