American Sign Language and Interpreting
American Sign Language and Interpreting
Associate of Arts Degree, Associate of Applied Science Degree, Certificate
Available at: Windward Campus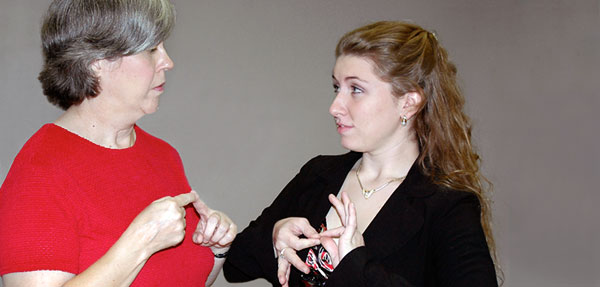 Program Overview
The purpose of the American Sign Language and Interpreting Program (ASLIP) is to enable students to develop communication skills to be used with persons who are deaf, and to prepare students for careers working with persons who are deaf or hard of hearing. The program prepares students with the academic and communication skills that will help them be successful in a variety of professions and careers. Students may follow three tracks:
Interpreter Preparation – degree leading to state certification as an ASL/English interpreter
ASL/Deaf Studies – transfer degree option
Studies in ASL and deafness - certificate option
As part of the degrees and certificate, the program offers five semesters of American Sign Language coursework. These courses are accepted by many universities for foreign language credit, and students may wish to take ASL to meet those requirements. Incoming students may be eligible to take a department exam to receive credit for ASL courses taken in high school, and can continue with further coursework to increase their ASL communication skills.
Career Opportunities
There is an increasing demand for persons who are adept at interpreting for deaf or hard of hearing persons, for teachers certified in deaf education, and for others who have American Sign Language skills. The increased demand is also increasing salaries for interpreters, teachers, and others working in the field of deafness. Opportunities include employment in state and local government agencies, rehabilitation, education, medical facilities, legal practices and other community services. In addition, there is a vital need for ASL/English interpreters to work in Video Relay Services, in education from pre-K to post-graduate settings and in varied community settings.
Curriculum
An Associate of Arts degree in American Sign Language/Deaf Studies is a transfer degree that prepares students for further education leading to a variety of careers working with children or adults who are deaf or hard of hearing. Completion of this degree satisfies the Texas Higher Education Coordinating Board core curriculum requirements as well as providing basic knowledge of American Sign Language and deafness. Students will be ready to transfer into a variety of Bachelor's degree programs in several Texas universities, such as the American Sign Language program at Lamar University or the Interpreting program at University of Houston.
This degree is for those who wish to become American Sign Language/English interpreters. Students must demonstrate knowledge and skills in both English and American Sign Language before beginning interpreting coursework. Students will then take courses in preparation for the Texas Board for Evaluation of Interpreters Basic Interpreting Certification exam, including a written Test of English Proficiency and an interpreting performance exam. Upon graduation and successful completion of a certification exam, students can work in a variety of professional areas as ASL/English interpreters.
For students in this program who may have a criminal background, please be advised that the background could keep you from being licensed or certified, or may prevent you from working in some settings. For more information about required background checks for this field, please speak to a faculty member in this program. In addition, information on required background checks is available from the Texas Board for Evaluation of Interpreters.
Many students who seek careers in other fields choose to complete this certificate program in order to better serve future clients who may be deaf or hard of hearing. This program is designed for those who want to learn about deafness and achieve basic communication skills in ASL.
Careers
Page last updated September 15, 2022.