Pharmacy Technician
Pharmacy Technician
Associate of Applied Science Degree, Certificate
Available at: Windward Campus
Program Overview
The Pharmacy Technology Program curriculum is designed to prepare students for a career as a Certified Pharmacy Technician, a health care professional who works directly under the supervision of a Registered Pharmacist in providing health care and medications to patients in institutional (hospital) and retail settings. The responsibilities of a Certified Pharmacy Technician include the ability to order, stock, package, prepare medications, operate computerized dispensing systems, prepare insurance claim forms, and maintain written or computerized patient medication records.
Curriculum
Accreditation
Del Mar College Pharmacy Technology program has received Accredited status from the Accreditation Services Division of the American Society of Health-System Pharmacists, 7272 Wisconsin Avenue, Bethesda, MD 20814.
Program Outcomes
| Program Outcomes | Percentage (%) |
| --- | --- |
| PTCB National Certification Exam Results First-time Pass Rate 2021 | 97 |
| PTCB Overall Pass Rates for Program 3-year Cycle | 61 |
| Program Completion Rate 3-year Cycle | 78 |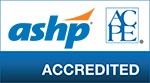 Careers
Page last updated August 7, 2023.