Building Maintenance Assistant
Building Maintenance Assistant
Workforce Skills Award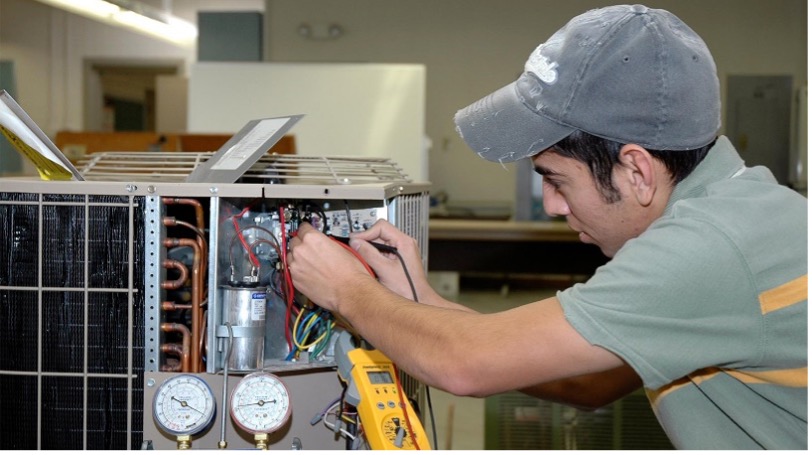 Program Overview
The Building Maintenance Assistant program is designed to teach general maintenance skills in many different crafts. General maintenance mechanics repair and maintain machines, mechanical equipment, buildings, electrical and heating systems. They also maintain and repair specialized equipment, and machinery found in cafeterias, laundries, hospitals, stores, offices, and factories. Typical duties include troubleshooting and fixing faulty electrical switches, repairing air conditioning motors, and unclogging drains.
General maintenance mechanics inspect and diagnose problems and determine the best way to correct then often by checking blueprints, repair manuals, and part catalogs. They use common hand power tools and replace or fix worn or broken parts, where necessary, or make adjustments.
These mechanics also do routine preventive maintenance and ensure that machines continue to run smoothly, building systems operate efficiently, and that the physical condition of buildings does not deteriorate. Following a checklist, they may inspect drives, motors, and belts, check fluids levels and replace filters. Maintenance mechanics also keep records of maintenance and repair work.
Course offerings
Fall and Spring semesters (16-week sessions) and Summer (6-week session)
Course schedule
| Course Code | Course Name |
| --- | --- |
| MAIR 1091 | Special Topics Major Appliances Installation and Repair |
| PFPB 1021 | Plumbing Maintenance and Repair |
| CBFM 1011 | Building Maintenance I |
Receiving Academic Credit Hours
All courses in the Building Maintenance Assistant Workforce Skills Award (WSA) program have the option to be converted to credit hours using a Petition to Record Credit form and all courses lead into the Del Mar College Architecture, Aviation and Automotive pathway including the Building Maintenance, Associate in Applied Science. 
Admissions Requirements
Students must be 18 years of age
High school diploma/GED not required
Recommended minimum of 9th grade level math and reading knowledge
Academic pathway
Architecture, Aviation, and Automotive
Architecture, Aviation, and Automotive Department
(361) 698-1767
Take the next step!
Upon completion, Del Mar College students can advance their skills by taking credit courses toward the following "stackable" credentials:
Page last updated November 1, 2023.